Welcome to the KAIT/GWJ Anniversary Page.
Please return to this page from time to time as I add additonal photos and links.
<![if !vml]>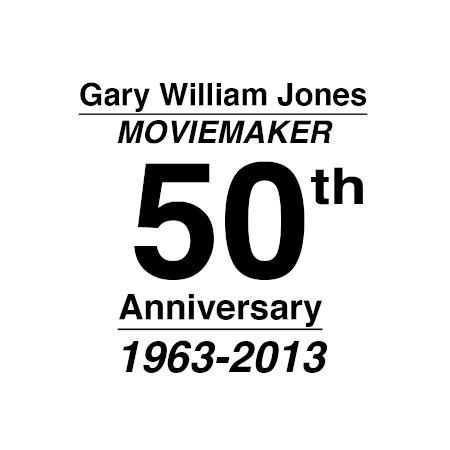 <![endif]>
(gary@jonesfilmvideo.com / 800.880.1981)
<![if !vml]>

<![endif]>
<![if !vml]>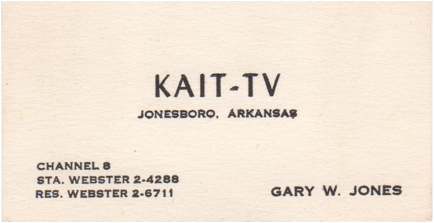 <![endif]>
July 8, 1963 Jonesboro SUN
<![if !vml]>

<![endif]>
July 15, 1963 Jonesboro SUN
<![if !vml]>

<![endif]>
<![if !vml]>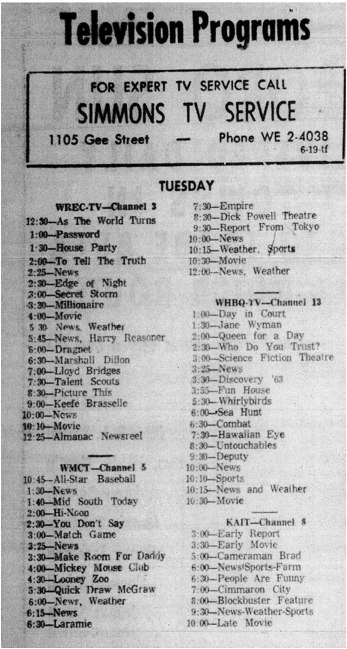 <![endif]>
KAIT-TV Photographer/reporter JESS YOUNG (later Dr. Jess Young) hired me as his assistant in the KAIT-TV darkroom (still photos only).
<![if !vml]>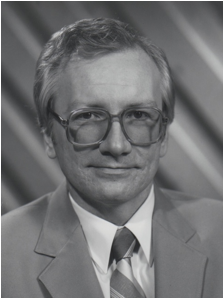 <![endif]>
KAIT-TV News photographer PAUL BATEMAN introduced me to 16mm filmmaking at a professional level. This is a Polaroid print that didn't quite get "fixed" properly.
<![if !vml]>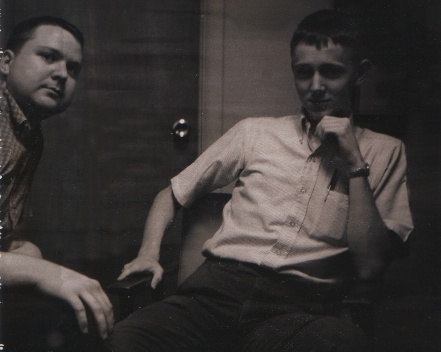 <![endif]>
LARRY McADAMS was a veteran radio announcer when he came to work at KAIT-TV, where—among many other assignments—he hosted the Saturday DANCE PARTY I directed prior to CHANNEL 8 'RASSLIN'. (Note used—very used—image orthicon black-and-white camera(s) we used to replace the industrial vidicon cameras with which we signed on. Can't blame Polaroid for this photo, which I shot and processed. I was a much better shooter and director than I was darkroom jockey. J
<![if !vml]>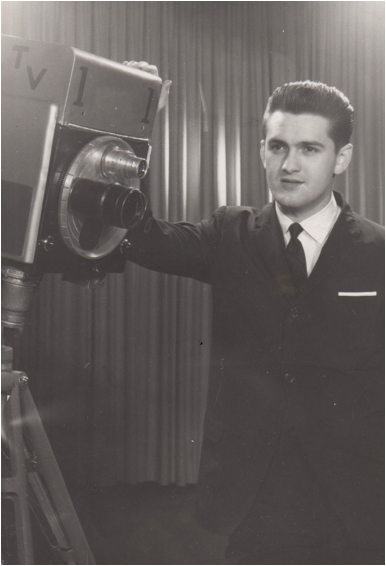 <![endif]>
Speaking of wrestling ('rasslin'), here is a shot of me and the portable ring the promoter would set up in the studio each Saturday.
<![if !vml]>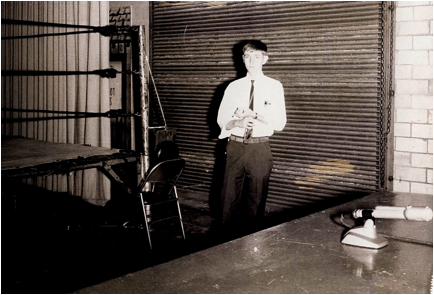 <![endif]>
In the KAIT-TV office, which had Dr. Pepper machine and teletype machines but no water cooler. Note the fashionable and flattering neckties. What can I say? I was a teenager trying to look older. J
<![if !vml]>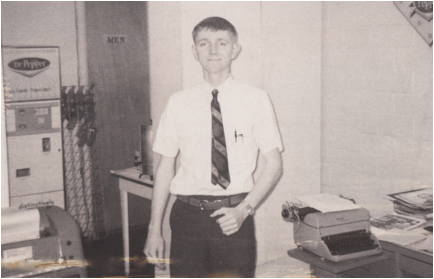 <![endif]>
Directing newscasts one-man-band style "back in the day" was an experience I can't forget. (I'd like to forget it, but I can't. J
<![if !vml]>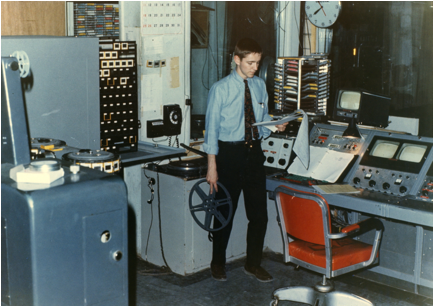 <![endif]>
In my "art director" mode cutting out a large "8" for—as best I recall—an upcoming telethon. (And, no, I was not cutting my own hair back in those days. It just looks as though I were. J
<![if !vml]>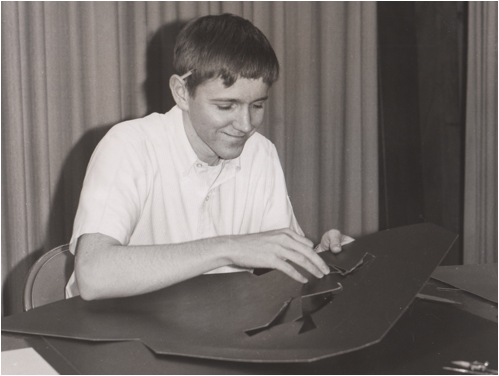 <![endif]>
While in my first graduate school at the University of Illinois, I wrote of my experience in the early days of KAIT-TV. A link to the article is here. A link to an unpublished update article is here.
<![if !vml]>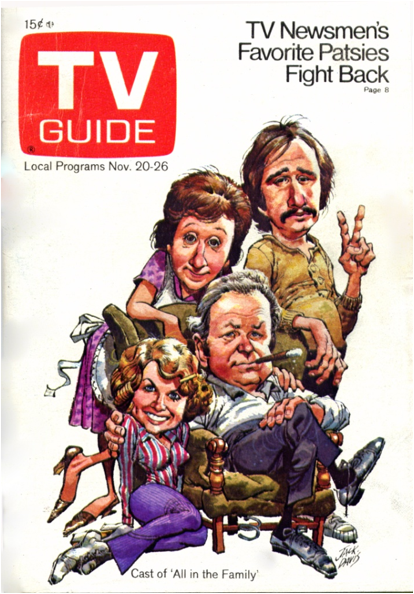 <![endif]>
The Arkansas Society for Cinema & Television Production is my non-profit educational corporation. It's for when I'm too old to cut the mustard in the commercial filmmaking world. Pick out your favorite documentary topic and plan your tax-deductible donations now. J
<![if !vml]>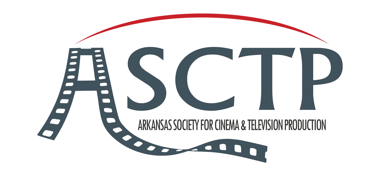 <![endif]>
Jones Productions/Jones Film Video is the production company MARLENE LAMAR and I started—along with SEAN HARPER—in 1981. Marlene now operates Jones Mobile Television (www.jmtv.com) . I sold JFV to CJRW in 2006, but remain as President and resident "grandpa." JFV is the oldest, full-service motion picture and television production company in Arkansas, and one of the oldest in the region—and it all started by emptying trash cans and doing darkroom chores at KAIT-TV starting July 1, 1963.
Thanks for the opportunity and the memories.
Check us out at www.jonesfilmvideo.com. Contact me at gary@jonesfilmvideo.com or at 800.880.1981.
<![if !vml]>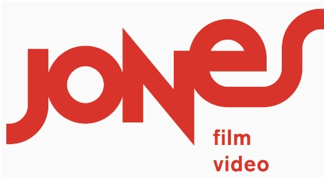 <![endif]>