Jonesboro (AR) High School
Class of 1964
Remembers
Carl Lemuel Cole
<![if !vml]>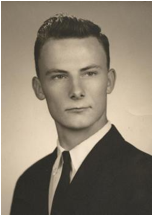 <![endif]>
(March 7,1946 – April 26, 2016)
Carl was born March 7, 1946 in Jonesboro to the late Robert B., Sr. and Mary Jane Cole. He has lived here in Jonesboro for his entire life where he was also a longtime member of Central Baptist Church. Carl was an avid fisherman, who also enjoyed camping. Most of all Carl loved spending time with his family and was very good at making sweet tea.
In addition to CarlŐs parents, he is preceded in death by two brothers: Robert B. Cole Jr. and Patrick Cole. Carl is survived by his loving wife of 44 years, Ethel Cole,; two daughters: Sara (James) Clark of Paragould and Amy Cole and Jeremy Morphis of Little Rock; one brother: Michael Cole of Floral City, FL; two sisters: Patricia(Aubrey) Sumpter and Melba Cole both of Jonesboro; four grandchildren: Lauryn (Derek) Escue of Jonesboro, Colby Price of Jonesboro, Rowan Shivers of Little Rock, and Riley Morphis of Little Rock; and one great-grandchild on the way.
For lasting memorials family asks to please consider donations to Central Baptist Church or Arkansas ChildrenŐs Hospital: 1 Children's Way, Little Rock, AR 72202
Carl Cole was a good friend and he will missed by Family and Friends. His family has suffered through some tragedies over the years. My heart goes out to his family.
Carl and I worked together as dishwashers in the South School cafeteria in the fifth and sixth grades. My mother who was teaching first grade there gave me the 25 cent lunch fee for working and Carl and I ate free and could eat all the cookies and milk we wanted at no charge! In retrospect, we learned the work ethic at a young age.
Carl Cole was always one with a sincere, gentle nature, which made it a most pleasant experience to be in his company. We extend our heartfelt condolences to his family at his passing knowing that one day we can enjoy his spiritual presence.
Ron Faulkner