Jonesboro (AR) High School
Class of 1964
Remembers
David Massey
<![if !vml]>
<![endif]>
(November 12, 1946 – September 9, 2012)
<![if !vml]>
<![endif]>
<![if !vml]>
<![endif]>
David Crafton Massey, 65, of Eureka Springs went to be with the Lord Sunday, September 9, 2012. David was born November 12, 1946 in Kennett, Missouri to Russel and Elsie Crafton Massey. 

David was a 1968 graduate of Arkansas State University with a B. A. in Music Education. David had been a Band Director in Florida, California, for many years at Catholic High in Little Rock and his last position was at Eureka Springs. David was a versatile musician on multiple instruments. He played at many venues around the country, mostly in the Eureka Springs and Branson, Missouri area. He even had bit parts in movies while living in California. David was of the Methodist faith and had been a DeMolay and a Mason. 

David was preceded in death by his parents. He is survived by his sister: Mary Jane Reed and her husband Bill of England, Arkansas; one nephew: Russel Reed of Palo Alto, California.

 The family asks that memorials be made in DavidÕs name to the Catholic High School at 6300 Father Tribou Dr., Little Rock, Arkansas.
Hitler's Bathroom's originator was an original. IÕll always remember out times together at Jonesboro High, and the three months I lived with him during the summer of 1962, when learned to love the Kingston Trio.
--Sandy Stanfield
***
Wow, this news is tough for me but IÕll always remember the good times, our friendship and the laughter you not only brought to me but everyone that came across your path. As I use to say as we marched together in the band at Arkansas State University, you not only march to your own drum, but you own the whole darn parade! I will miss you my friend!
--Roger Ferguson
***
Brenda and I were fortunate to see David at our last reunion and were able to visit with him afterwards. This was Brenda's first meeting with David and needless to say he made an impression. We reminisced at the times we had in the Explorers (Post #6) aka Hearn's Hunting Club. The week we spent at the Philmont Scout Ranch, hiking and camping in the mountains. David was a real hoot, always kept it interesting and was a friend to everyone he met.
--Kerry Snyder
***
David was an original in every good sense of the word. We lost track of each other for 40+ years, and then re-established contact through email a few years ago. It was like weÕd never been out of touch, and we had a great time swapping music CDs, recollections of the 8 mm movie he wrote, filmed, and starred in our senior year, and his a capella rendition of SurfinÕ Bird at a high school assembly. David ran at full throttle most of the time and, although we never managed to get together again, his friendship was a treasure. He lives on in my memories and my heart, and from the note he wrote me after the last class reunion, I know he was very happy he got to see all who attended.
--Jim Broadway
***
We were friends and classmates from kindergarten through our college days as TEKE fraternity brothers at ASU. What a unique individual Dave was. I'm so glad I spoke with him a few weeks ago when he was in rehab following his surgery and before the stroke. We reminisced for half an hour about old times; classmates,trips to concerts, the Kinston Trio ( he had every album ), his life as a musician, and of course "the movie" he produced, directed, wrote, and starred in as a plump Eva Braun. He was his usual witty, animated self at our last class of 64 JHS reunion, holding court and remembering the good times. I loved this guy.
--Ray Hall, MD
I remember being impressed by DavidÕs gregarious, larger-than-life personality and his joie de vivre. Once you had met David, youÕd never forget him. And his friends never will.
--Gary William Jones
***
He was an original.
--Peter Kluge
<![if !vml]>
<![endif]><![if !vml]>
<![endif]><![if !vml]>
<![endif]>
<![if !vml]>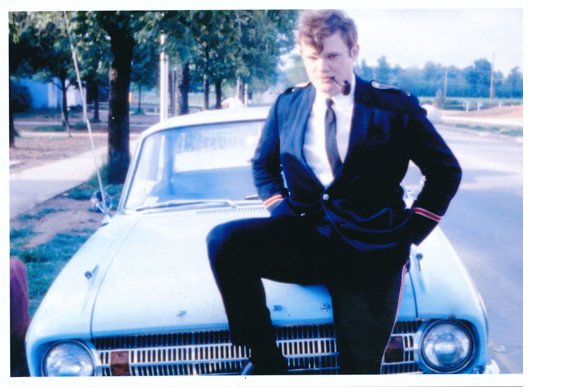 <![endif]>