Jonesboro (AR) High School
Class of 1964
Remembers
William Hal Feild
<![if !vml]>
<![endif]>
(November 5, 1946 – February 16, 2021)
<![if !vml]>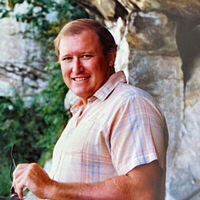 <![endif]>William Hal Feild, 74, passed from this life February 16, 2021 at the Flo and Phil Jones Hospice House in Jonesboro. He was born November 5, 1946 in Jonesboro, to the late Henry and Lorene Feild. In addition to his parents, Hal is preceded in death by his brother, H.A. Feild IV; and his father-in-law, C.W. Borden.
Hal spent all of his life in Jonesboro. He was a member of Central Baptist Church and also attended Strawfloor Baptist Church. Hal loved being outside, whether it be duck hunting, fishing, or playing golf. Most importantly, Hal loved spending time with his grandkids and family.
Hal is survived by his wife, Dee Feild, of the home; daughters, Stacy Manley (Rodney) of Brookland and Amber Ellenburg (Dustin) of Jonesboro; grandchildren, Joshua (Kaylie), Kristen, Caleb, Rachel, Rebekah, JoyAnna, Jeremiah, Nathanael, Zayne and Silas Manley, Emily Edgar, Zachary, Elijah, Isaiah, Ezekiel, Samuel, Evan, Benjamin, Abraham, Rose Tralee, Hattie and Truett Ellenburg; great-grandchildren, Henry and Lucy Manley, Olivia and Jackson Edgar; mother-in-law, Pearl Borden; nephew, Rusty Feild; great-nephew, Eli Feild; and a whole host of other family members.
A funeral service will be held 2:00 pm Thursday, February 25, 2021, at Emerson Funeral Home. A visitation will precede the service from 1:00 to 2:00, with burial following the service at Oaklawn Cemetery.
For lasting memorials, the family requests donations be made to the American Cancer Society at PO Box 22478, Oklahoma City, OK 73123; and the Flo and Phil Jones Hospice House at 1148 E Matthews Ave, Jonesboro, AR 72401.

From: Dee Feild <ldfeild@aol.com>
Date: February 16, 2021 at 9:38:35 AM CST
Just to let you all know, Hal passed peacefully away at 03:59 this morning. He knew us til just before the end. He loved hearing from each of you who called, visited, or sent messages that I read to him. He loved his friends dearly. He will be missed by his family but we are thankful he is with his heavenly father. Thanks to you all! There will not be a service until Monday probably because of the weather here. He is at Emerson Funeral Home here in Jonesboro.
Hal was such a sweet guy. As a young man & would run into him often in the gro. Store. He sat behind us at church. Just always soo loving & friendly to everyone! Prayers for his sweet wife & family,'
He has always been my true friend ❤️Really glad I was able to speak with him!
I spoke to Hal last Saturday and had a very good conversation with him. A dear sweet and kind guy who will be missed.
<![if !vml]>
<![endif]>
Photo taken by Barbara Pruitt Hall at the JHS64 55th Reunion