Jonesboro (AR) High School
Class of 1964
Remembers
Ted Franklin Gott
<![if !vml]>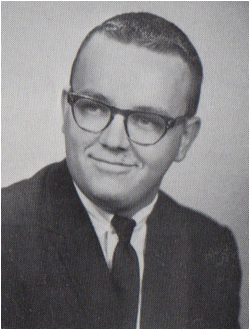 <![endif]>
(October 21, 1946 – April 8, 2013)
<![if !vml]>

<![endif]>
<![if !vml]>

<![endif]>Ted Franklin Gott, 66, of Maumelle passed away Monday, April 8, 2013. He attended ASU and was a Methodist. He was owner of Ted Gott Real Estate Appraiser.
He is survived by his wife of 33 years, Carolyn Rathburn Gott; father, Carroll Franklin Gott; son, Shawn Gott and his wife Kathy; daughter, Angela Blanks and her husband, Adam; grandchildren, Nate, Gracie and Brendan; brother, Tim Gott and wife, Laura; and his sister, Carola Beth Clayton and husband, Randy. He was preceded in death by his mother, Ann Belle Harris Gott and his brothers, Phillip and Terry Gott.
In dying Ted's wish was to "give back", therefore his body was donated to the Genesis Donor Program. Ted was a generous man who enjoyed anonymous acts of kindness. In his memory, his family suggests some random act of kindness to honor Ted.
Some of my fondest childhood memories are of the many, many days and hours Ted and I played together at his home and mine on Freeman St. in Jonesboro. Ted was always fun, friendly and considerate of others, and very close to his entire family. 
I haven't seen Ted much in recent years, but that does not change the fact that I considered him a lifelong friend. My condolences to his family and friends. Not unexpectedly, Ted died as he lived--thinking of others. Ted was a good man. 
With condolences and best wishes.
I associated with Ted from the 7th grade till we graduated. He attended West School elementary as I recall.
Always with a smile and displaying a gently personality, I recall he and I spending many days as junior high student football team members. Wishing his family the best during this time of loss to them as well as our fellow classmates.
Ron Faulkner